Welcome
You+She is an online market dedicated to buying, selling, discussion, and discovery of female-founded, romantic brands. We love all things of beauty and we care about the quality, sustainability and ethics of the brands. Over the years, we have been collecting the brands that are beautiful both inside and out. We highly recommend them to you and are providing our support via this secondhand market.
Origin Story
Kait and Yuxi (you-she) met on Instagram and bonded over our shared love of fashion. We have talked about clothing for years and discovered how transformative thoughtfully-crafted pieces have been in our lives. As mothers of young kids we've found fashion helpful in our personal journeys. From wearing a soft nightgown while up in the middle of the night with babies to feeling like the Belle of the ball at an event in a romantic gown. Our clothing is an important part of our lifestyle. 
After selling our clothing in numerous ways online we decided to create a space dedicated to reselling beautiful brands to the stylish community that we love to be a part of. We hope to create a positive space where people can collect heirloom pieces, chat about clothing, and create friendships. We would love to share our passion by sharing reviews of our heirloom pieces and newly discovered jewels as post or story.  
Buying Guidelines
Buying is simple at You+She! We require sellers to price based on the condition determined according to our standards and also disclose known flaws. All transactions are protected by Paypal and sellers pay the fee. Have fun shopping! 
1. Follow us on Instagram @ShopYouShe
2. Claim the item by leaving your zip/postal code and tag the seller in the comment section
(i) You win the item if you are the first one to claim it.
(ii) You are on the waiting list if you are not the first one to claim 
(iii) Being the first to comment with anything besides a zip/postal code ie. "pending question in dm" is not claiming the item. 
3. After you win the item, direct message (DM) the seller your Paypal email address
4. Pay the invoice or money request via "Paypal goods & services". You should pay the same day (factor in the time difference) unless you both agree on a different time frame.
5. Inspect the item when you receive it. Take photos if the item arrived as damaged or not consistent with the description. Please communicate with the seller with proof. If no resolution can be made, please email us at hello@youshe.love
SELLING INSTRUCTIONS
Prepare Item
Determine Condition & Price
Email Us at hello+listings@youshe.love saying you'd like to list an item.
You'll receive an email with the template for listings.
Pay the posting fee at the bottom of this page or to hello@youshe.love in PayPal.
Fill out the email template and send back with photos of items and screenshot of your payment.
Wait for your listing to pop up on @ShopYouShe! You will be tagged in the caption of the post.
---
1. Prepare your item. 
Inspect your item carefully for flaws and marks. 
Clean your item. Please DO NOT submit an item with a hygienic issue.
Photograph your item. Please use good natural lighting to accurately reflect its condition. All known flaws need to be photographed and revealed to the buyer. Do not apply filters that interfere with the true representation of the color. 
Types of photos: 
At least two real photos of the item taken by the seller (please do not borrow photos). Extra points for a picture of yourself in the item!
We would love a close-up "swatch" pic of the fabric and pretty print that you're listing! Let's appreciate the details. 
2. Determine the condition
To make sure the buyer receives items in the condition they expect we stress the accuracy of reporting the state of your item. Please see below for our terminology. Your post will be delayed and asked to be reworded if the terminology below is not followed. 
A - New: never worn, tag is on
B - Pristine: tried on only, tag is removed
C - Excellent: used but no visible sign of wear
D - Good: used with light sign of wear, no holes or noticeable stain
E - Used: used with visible sign of wear or other flaws 
+ - Please disclose any alterations made
Determine the price
Pricing should be based on the condition determined in (iv), factoring the popularity and the 3% Paypal fee. Price gouge is NOT allowed under any circumstances.
3. Email "hello+listings@youshe.love" saying you would like to list an item.
4. Receive and email from us with the following template. Fill it out and send it back attaching pictures of your item and a screenshot of your payment.
Fill in the following template which will be emailed to you
ITEM: 
COLOR:
SIZE:
(optional) MEASUREMENT: 
CONDITION:
PRICE:
(optional) RETAIL PRICE:
PAYPAL G&S: 
SHIPPING:
(optional) INTERNATIONAL SHIPPING: 
MATERIAL:
CONTACT:
5. Pay your posting fee via PayPal at the bottom of this page or to hello@youshe.love in PayPal and take a screenshot for proof of payment.
6. Send the email Template and Proof of Payment back to hello+listings@youshe.love
7. Your listing will go live on Instagram as soon as possible and you will be tagged in the listing.
8. Contact the first person who claimed the item. Buyer must leave the zip/postal code and tag you to claim an item. In the case of leaving "zipcode with pending question", please reply to the question and you are allowed to move on to the next buyer afterwards. 
4. Prepare invoice or request money via Paypal goods and service. Buyer should pay as soon as possible unless you both agree on a different time frame. You are allowed to move on to the next buyer if the invoice is not paid timely. 
5. Ship your item. Shipping should be within 3 business days unless you both agree on a different time frame. You should provide the tracking number once the item is shipped. International shipping might not have tracking. 
6. International Shipping: We are going to work closely with our community in order to provide guidance on the best way to ship items internationally. Knowing that the custom rules are complicated, we don't pretend to know every detail and please share your experience and knowledge with us at @shopyoushe or email us at hello@youshe.love.
A few things that are worth emphasizing
You+She is built on kindness and good conscience. We try our best to keep a reliable and friendly platform for everyone. To do that, we need your help to follow the basic Do's and Don'ts. 
Please DO
BUYER
Report a seller who is not following basic selling rules including price gouging, ghosting, etc. 
Ask for proof of purchase if the item is priced unusually high
Ask for additional photos prior to purchase to determine the condition 
Pay invoice in a timely fashion
SELLER
Offer additional photos to show the imperfection 
Offer signature confirmation option if buyer is worried about delivery 
Take photo of your package and keep a shipping record
 Please DO NOT 
Failure to comply with these rules will lead to ban from You+She
BUYER
Resell for profit. This platform is driven by the love of clothing and not pure profits.
Claim an item but not purchase or reply. 
Offer a similar item in the comment section.
Bid on an item in the comment section or message seller with a higher offer. 
SELLER
Price gouge (Sell above retail price and 30% higher than what you paid).
Delay shipping without consent from the buyer.
Fail to follow our condition standards stated above. 
Brands We Love!
The list below is a selection of our favourite brands that you will see on Shop You+She. We hope to curate the selection to thoughtfully-crafted, female founded, romantic brands. If we are missing your favourite brand let us know! 
Dôen
Christy Dawn
Oak Meadow
Mr Larkin 
Natalie Martin
Lauren Manoogian
Innika Choo
Stella Ray 
Batsheva
Horror Vacui
Sea New York
Babaā
Sleeper
Loeffler Randall
Misha and Puff
ISO Matchmaker Service
1 time $5 fee and $3 extra for upgraded reservation
How it works
Email us at Hello+ISO@youshe.love with your ISO request ("In Search Of")
Kait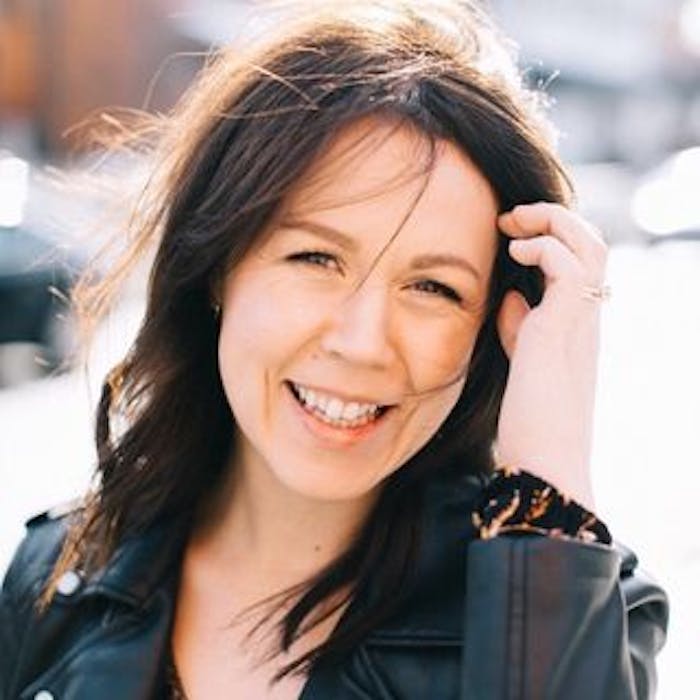 Kait is a stylish mom of three living in Hamilton, Ontario, Canada. She went to school for fashion and has a Bachelor of Design. Kait started her blog, KaitBos.com after her second pregnancy as a creative outlet and to share her stylish, mom-friendly styles. She spends her days changing diapers in dresses, writing about clothing and making YouTube videos sharing her life and latest finds.
Yuxi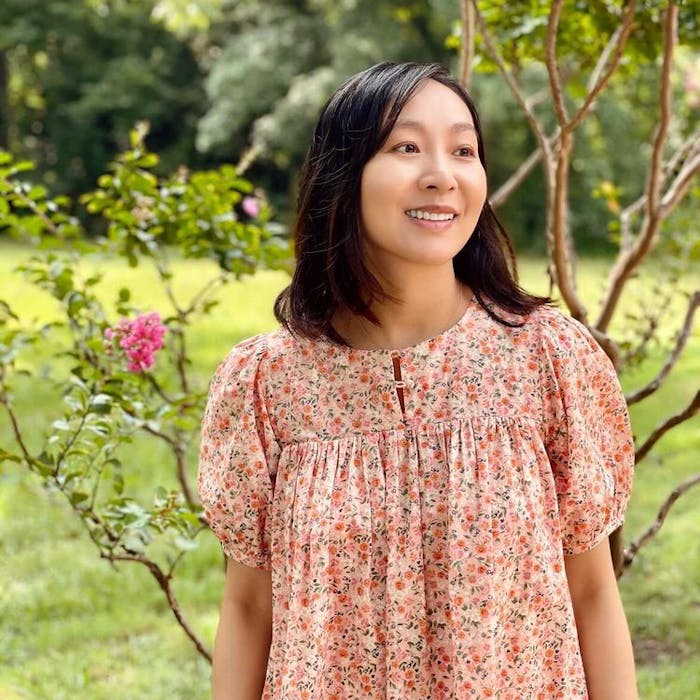 Yuxi (You-She) and her husband live with their newborn girl in Dallas-Fort Worth, Texas. She is originally from southern China and came to US for graduate school. She is a portrait artist in oil painting and spends her time on commission work after her daytime job as a data scientist. Yuxi has been curating for years a closet that serves her various roles - mother, wife, professional, free lance artist - and clothes that grow with her life journey. Follow Yuxi @Yuxi.x.Costello